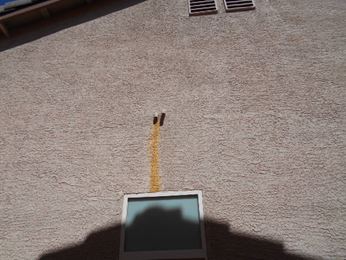 Do you know what that rust stain on the side of the house above the window means? Should you care? Yes! It could mean HVAC problems.
This is caused by drainage through the secondary condensate pipe for the ir handler. This usually indicates that one of the primary discharge pipes, which typically drain near the soil line, is blocked and requires maintenance. A bigger problem can emerge if this secondary line also gets blocked and the condensate pan for the attic mounted air handler overflows into finished spaces below.
If you are listing a home or assisting a buyer, a home inspection by Criterium-McWilliam Engineers will include a thorough review of the visible components of the HVAC system. We also test to confirm whether the system is operational.
Criterium-McWilliam Engineers specializes in home and building inspections. We are staffed with licensed professional engineers. Please feel free to contact us for more information about all of our inspection services.
We look forward to the opportunity to be of service to you and your clients in the future.