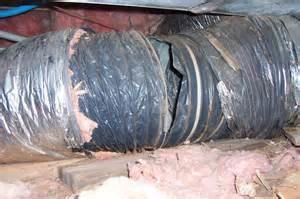 Leaky ducts can cause 30% to 40% energy loss.  If summer and winter utility bills are unusually high, if there are stuffy rooms or rooms that are difficult to heat and cool; examine the ductwork.  You may improve the comfort of the home or building and smile when the utility bill comes.
Ducts are made of both flexible and rigid material.  Those that are in unconditioned spaces such as attics and crawl spaces are of most concern since greater energy loss is possible.
Finding Leaks
● Examine the ducts visually.  You may be surprised to find holes that you could put your hand through!
● Look for ducts that are partially or completely disconnected. Many leaks are at the joints where two ducts are connected (or not!).
● Finding smaller leaks.  Use caveman technology, put a ribbon on a stick. The ribbon will blow around when it's near a leak.  Or use a candle, and watch the flame flicker.
● Check the connections at vents and registers to make
 sure they are well-sealed where they meet the floors, walls, and ceiling.  These are common locations to find leaks and disconnected ductwork.
● Pressurize the ducts.  A procedure performed by a qualified technician.
Reparing Leaks
● Usually a combination of the proper tape and mastic sealant, be thorough.
● New technology called Aeroseal.  A non-toxic, aerosol mist is spayed into the interior of the ductwork.

 

 
Because ducts are found in ceilings, attics, basements and crawlspaces, some do it yourself repairs may be difficult. When in doubt consult a qualified company to examine and perform repairs.
Criterium-McWilliam Engineers specialize in residential and commercial building inspections.  We are staffed with licensed professional engineers.  We welcome the opportunity to discuss all of the engineering services we can provide for you and your client. Call (702) 294-3168.  First Published November 2016.