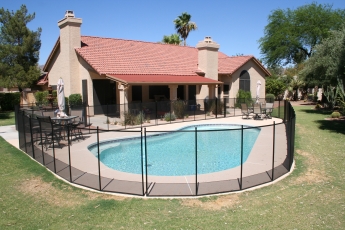 Pool safety is a year round concern.  Whether you are representing a seller or buyer (or you have a pool of your own!), review the pool environment with your client, what safety measures are in place, and then consider the following.  Avoid injuries and keep it a fun zone!
Consider an access barrier.
Protect access to the pool with door alarms and gates equipped with locks.
Make sure suctions outlets or drains are covered to prevent entrapment.
Establish and enforce pool rules.
Monitor children
Never allow anyone to swim alone.
Please read more detailed information regarding access barrier safety standards and other pool safety considerations.  Our content is not intended to address all safety issues and local ordinances vary and change.
Criterium-McWilliam Engineers specialize in residential and commercial building inspections. We are staffed with licensed professional engineers. Please contact us with your interest in the engineering services we provide.
The following recommendations for pool safety barriers and drain outlets, provided by American Residential Properties, is sourced primarily from several state documents including the Las Vegas 2009 Southern Nevada Pool Safety Code-Chapter 8: Access Barriers and Safety Requirements.
The access barrier should be 5 feet high at a minimum.
The access barrier should not have any holes/openings that allow a 4 inch sphere to pass through.
The access barrier must have no openings, handholds, or footholds accessible from the exterior side that can be used to climb the barrier.
The access barrier must be at least 20 inches from the pool edge.
The pool access barrier must have a self-closing, self-latching gate or door that opens outward from the pool area and equipped to accommodate a lock.
The gate/door latch must be located on the pool side of the barrier and a minimum of 54 inches above the grade/pool deck.
Where a portion of the house provides one side of the access barrier, all openings to the pool area from the house must be equipped with an alarm; or must be self-closing, self-latching with the latch at least 54" above the floor; or the pool has a powered safety cover.  Often overlooked are the exterior doors in the garage.
This enclosure should be checked often to insure integrity.
The suction outlets or drains for existing pools should be equipped with a compliant cover to prevent entrapment. New pools can be built without submerged suction outlets or drains.  No drains means no hazards to protect against.
If there is an existing pool barrier and some of these recommendations are not in place, review your local ordinances and consider consulting a pool contractor to bring your barrier to current standards.
When establishing your rules for pool safety, consider these recommendations primarily sourced through the International Red Cross.
Keep children under active supervision at all times. Stay in arm's reach of young kids. Designate a responsible person to watch the water when people are in the pool—never allow anyone to swim alone. Have young or inexperienced swimmers wear a U.S. Coast Guard-approved life jacket.
Ensure everyone in your home knows how to swim well.
Keep your pool or hot tub water clean and clear. Maintain proper chemical levels, circulation and filtration. Regularly test and adjust the chemical levels to minimize the risk of earaches, rashes or more serious diseases.
Ensure everyone in the home knows how to respond to aquatic emergencies by having appropriate safety equipment and taking water safety, first aid and CPR courses.
Establish and enforce rules and safe behaviors, such as "no diving," "stay away from drain covers," "swim with a buddy" and "walk please."
The safety features of the pool equipment should be reviewed often. This would include the GFCI outlet associated with the pool and spa light circuits and ground connections for the pump motor frames.
All pools should have a pole or other reaching device nearby to help assist someone to the side of the pool.
We hope to have provided you and your client with some valuable information that may help to prevent accidents and keep a pool amenity a long lasting place of enjoyment.  The following are suggestions and do not guarantee pool safety.  Ultimately, using your pool responsibly is the best way to avoid accidents.  Also, you should check with your municipal authorities to determine what pool standards they may have.
Criterium-McWilliam Engineers specialize in residential and commercial building inspections. We are staffed with licensed professional engineers. Please review our website or call us with your interest in the engineering services we provide.