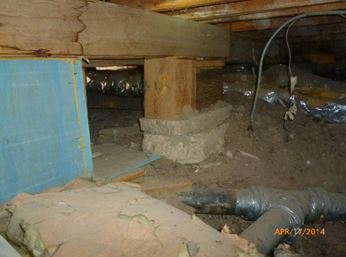 In homes built on crawlspaces such as this one inspected by Criterium-McWilliams Engineers, it is very important that the crawlspace be accessed and inspected. To be safely accessed the Nevada Revised Statues 645.D requires an opening or area to be at least 18 inches by 24 inches.
Can you identify these deficiencies?
The foundation pier is substandard. It consists of a stack of broken concrete slabs and timber pieces without any reinforcement, tie downs or other means to resist lateral seismic or uplifting wind forces.
Improperly graded, especially the trench next to the foundation pier that can allow collection of water to undermine the pier.
Excessive debris and trash on the crawlspace floor.
Exposed cast iron sewer/waste drain pipe. Pipe is leaking and a substandard repair has been attempted with duct tape.
Improperly supported wiring, including cut off wires with exposed electrical conductors.
No thermal insulation on the underside of the floor.
Heating and cooling duct in the background lies on the floor of the crawlspace and is not properly supported to the framing. Insulation is loose and does not cover the duct properly.
Water stains on the wood girder indicate a plumbing leak from the living space above.
Criterium-McWilliam Engineers specializes in home and building inspections. We are staffed with licensed professional engineers. Please feel free to contact us for more information about all of our inspection services.